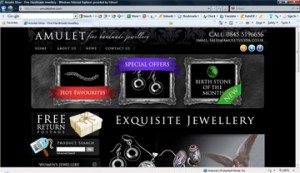 AmuletSilver.com is a very fashionable and unique e-commerce store that was designed and developed by our team for an online luxury Jewellery manufacturer. The design is completely bespoke, and was developed by our popular graphic artist Martin Hoy, and built around the ecommerce engine installed & developed by Big Boy Media.
The store makes best use of a number of our most popular ecommerce modules and features, all within a secure shopping cart system with an admin content management system that is intuitive and easy to use.
Modules include Sagepay online payments, a customer wish-list, product sort options, , 'customers who bought this item also bought…', ratings/review service, shipping select and many, many more.
The client initially used a different ecommerce supplier and requested that all products, product options, orders and customer data be transferred over to save time re-entering information. Although this was quite a challenge for the hundreds of products, it was achieved with the minimum of downtime, and without any errors or dropped data.
Visit the site yourself today – http://www.amuletsilver.com/